Have you seen FIREPROOF? We went to see Fireproof yesterday and it was completely wonderful. A very profound (ahem tear-jerker) movie that I encourage young adults and couples to go see! Wow. Kirk Cameron did a fantastic job, it was a great film for a b-budget, and astounded Hollywood by coming at #4 at the box-office opening weekend when they weren't even expecting it to hit #10!


Make a Date with FIREPROOF This Weekend


It's the weekend ... what a great time to go see a movie!

If you have seen FIREPROOF, chances are you know a couple that could benefit greatly from the movie's story. This weekend is a great time to invite them to go with you to see FIREPROOF.

If you haven't seen FIREPROOF, what are you waiting for? This is the movie that is touching lives, reigniting marriages, and surprising Hollywood insiders!

Visit FireprooftheMovie.com



The Impact of FIREPROOF


This story was submitted by Keith on FireprooftheMovie.com:




"My wife of 13 years had handed me divorce papers on the Monday evening before the movie came out. The script for the movie could have been written about us. We are both good people, we were just not being good to each other. I got a call from a friend on Saturday insisting that my wife and I go see this movie. I was afraid to even ask her, but I did. We went to the afternoon movie on Sunday.





"Wow ... it was us on the screen. We went home and talked about a lot of things and both said that we were sorry. We decided to stay together, to start going to church together again, and to treat each other the way we should have been all along. My wife called her lawyer on Monday and told him that she didn't want a divorce and I did the same. We ordered The Love Dare book for both of us on Tuesday, and the marriage kit as well. Thank you so much for showing us that we aren't the only couple with the problems that these people had and for giving us a new direction to go in. I love my wife and am looking forward to our new life together!"






Adding Theaters


As FIREPROOF moves into its second week, it will be playing in 850 theaters. These are the towns where it will open today.

Allentown, Pa.
Franklin, Ohio
Kansas City, Mo.
Springfield, Mo.
Lithonia, Ga.
Carrollton, Ga.
Griffin, Ga.
Fort Benning, Ga.
Thomaston, Ga.
Lawrenceburg, Tenn.
Anderson, S.C. Aiken, S.C.
Miami Lakes, Fla.
Orlando, Fla.
Winterhaven, Fla.
Baton Rouge, La.
Rancho Palos Verdes, Calif.
Westminster, Calif.
Laguna Niguel, Calif.
Flagstaff, Az.
Burlington, Wash.

While more theaters will be added next week (October 10), it looks like the majority of the new 300 theaters will be added on October 17. We'll keep you updated.




Making News


FIREPROOF has been highlighted by the media in all kinds of unexpected ways. On Friday evening, the movie is scheduled to be highlighted on ABC's World News Tonight evening broadcast. Tune in and see what is being said.

But more importantly, be a part of the excitement and the impact: check out FIREPROOF this weekend ...and bring a friend.



Get Tickets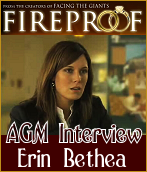 Reviews done on the film:

Miss Amanda
Jacque-Walking Therein
Trisch
FIREPROOF The Movie Now in Theaters!
Teri - Knowledge House