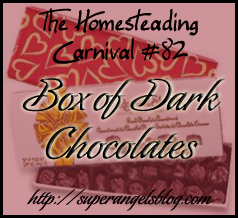 Amanda has done a delicious job with the carnival this week. She has it posted at The Daily Planet. Head over there and check it out. Watch out though you may get hook on chocolate...
One of my fave things is dark chocolate! I love dark chocolate! Its rich and has a wonderful flavor. Since I enjoy dark chocolate, I decided to make it this week's theme for The Homesteading Carnival. So I hope you're in the mood for some dark chocolates! (Read the rest here. )
Next week's Host blog :
But First, We Have Coffee
Submit your articles
here.
Labels: Carnival Archives